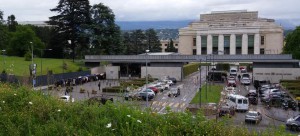 "I have bad news and good news," I said to my Geneva study tour group. I had just finalized the purchase of the round-trip tickets from Newark to Geneva, and the students were keen to learn about the flight details.
"First, the bad news. We don't have a direct flight." They were glumly silent, and I said, "That is not the bad news. We have a nine-hour stopover enroute to Geneva."
The groans were now clearly audible. "So what's the good news?" they said.
"The stopover is in Copenhagen."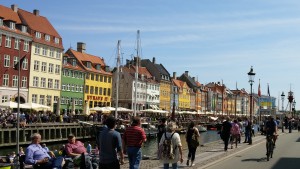 And that is how we came to spend several hours in the capital city of Denmark, visiting the tourist area of Nyhavn, taking a canal boat tour, and generally paying through our noses for food. Food in the Nordic countries does not come cheap. (Few things do.)
But we had a guide to help us. Anders is an economics student at the College, and he happens to be Danish. More importantly for us, he happened to be home in Copenhagen during our visit. He joined us for the larger part of the day, and made our brief detour through the city vastly more enjoyable.
And then it was on to Geneva. We spent a week visiting various international organizations and attending briefing sessions. The United Nations, the World Trade Organization, the United Nations High Commissioner for Refiugees, among others, were on the program. We also made a trip to Bern, the capital city of Switzerland, and visited the German embassy.
We were now part of a larger group, along with students from a university in Konstanz, Germany. We spent two days in Konstanz, where our students were hosted by their German counterparts. In a particularly memorable session, our group met with a local organization helping refugees from Syria and Afghanistan learn about the language and culture in their new land. We heard directly from refugees about their harrowing voyages across the sea and journeys over land which, finally, had brought them to this south-western corner of Germany.
On the way back to the States, we had not one but two stopovers, both in Nordic airports. But this time, they were relatively brief, giving us just enough time to admire the minimalist décor of the airports in Copenhagen (again) and Stockholm. And to spend a small fortune on sparkling water. These Nordic countries can be murder on your wallet.